Welcome one another, just as Christ has welcomed you, for the glory of God. Romans 15:7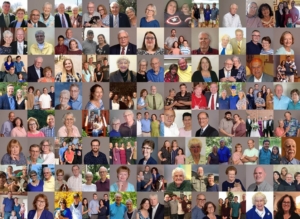 At Faith Presbyterian Church, membership is based on faith in Jesus Christ as Lord and Savior, and a renewal of our faith born out of baptism. We are Christ's disciples, obeying his Word and showing his love. We invite others to celebrate the Good News of Salvation with us and to share in the renewing experience we have in showing God's love.
If you visit with us, we'll make every effort to greet you with a handshake accompanied with a smile, introduce you to others, and share some refreshments with you after the service. Our church family currently has over 280 active members, and we invite you, regardless of age or background, to participate with our family in faith and grow spiritually.
To become an active church member, you are invited to take part in our Membership Conversations in which we have a series of discussions with our pastor and other members of the congregation about our beliefs about Jesus Christ, and how He is present among us. We then can accept your membership by profession of faith in Jesus Christ, reaffirmation of faith in Jesus Christ, or by letter of transfer from some other church.
We encourage our active members to be involved and committed by attending Worship, serving in the work of the congregation, and supporting the church financially.
If you have questions about your membership status, or have interest in becoming an active member of our church, please contact the church office at 610-967-5600.